Lineflex Fleece Backed EPDM
Lineflex is a heavy duty fleece backed EPDM roofing system ideal for residential, commercial and industrial buildings.
Lineflex Fleece Backed EPDM comprises an EPDM membrane that is laminated to a tough polyester reinforcement layer which greatly increases its durability as well as improving its tear and puncture resistance.
Lineflex Fleece Backed EPDM membrane is perfect for adhering to most substrates such as timber, felt, asphalt, concrete, fibreglass, insulation boards and more.
Lineflex EPDM rolls have a non fleeced edge to enable simple to install heat welded joins. This type of join is much stronger and more reliable than taped joins, are neat in appearance and can be done in most weather conditions.
Benefits of Lineflex Fleece Backed EPDM Membranes
The Lineflex Fleece Backed system offers a combination of features and benefits, making it an ideal solution for a variety of flat roofing projects. The benefits include:
Puncture resistant
Smooth, wrinkle free finish with no creases
Hides imperfections
Great adhesion
User friendly roll size
Easy to weld joins
50 year life expectancy
20 year warranty
We offer two EPDM membrane thicknesses: 2.0mm & 2.3mm and a range of accessories that provide a complete watertight installation.
---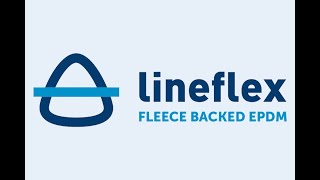 Learn how to heat weld Lineflex Fleece Backed EPDM joins for a seamless, discrete and reliable finish.
Lineflex Fleece Backed
Lineflex Adhesives, Primers & Sealants
Lineflex Flashings & Seam Tapes
How long will Lineflex Fleece Backed EPDM last?
Lineflex Fleece Backed membrane has a life expectancy of 50 years.
Does the membrane come with warranty?
Yes, you will receive a 20-year warranty on Lineflex Fleece Backed membranes.
Can it be walked on?
For maintenance access only.
How long does it take to weld and does it need time to cure?
Weld at a rate of 2.5 metres per minute and it sets pretty much instantly
What fire regulations does Lineflex have?
Does the fleece back still need insulation?
Yes.
The fleece has minimal impact on U value.
Is training required?
We offer a range of installer training, please see our training section.